Fishing Holidays in the Yorkshire Dales
Riverside Caravan Park straddles the banks of the River Wenning, with fishing rights for approximately 1 mile on both sides.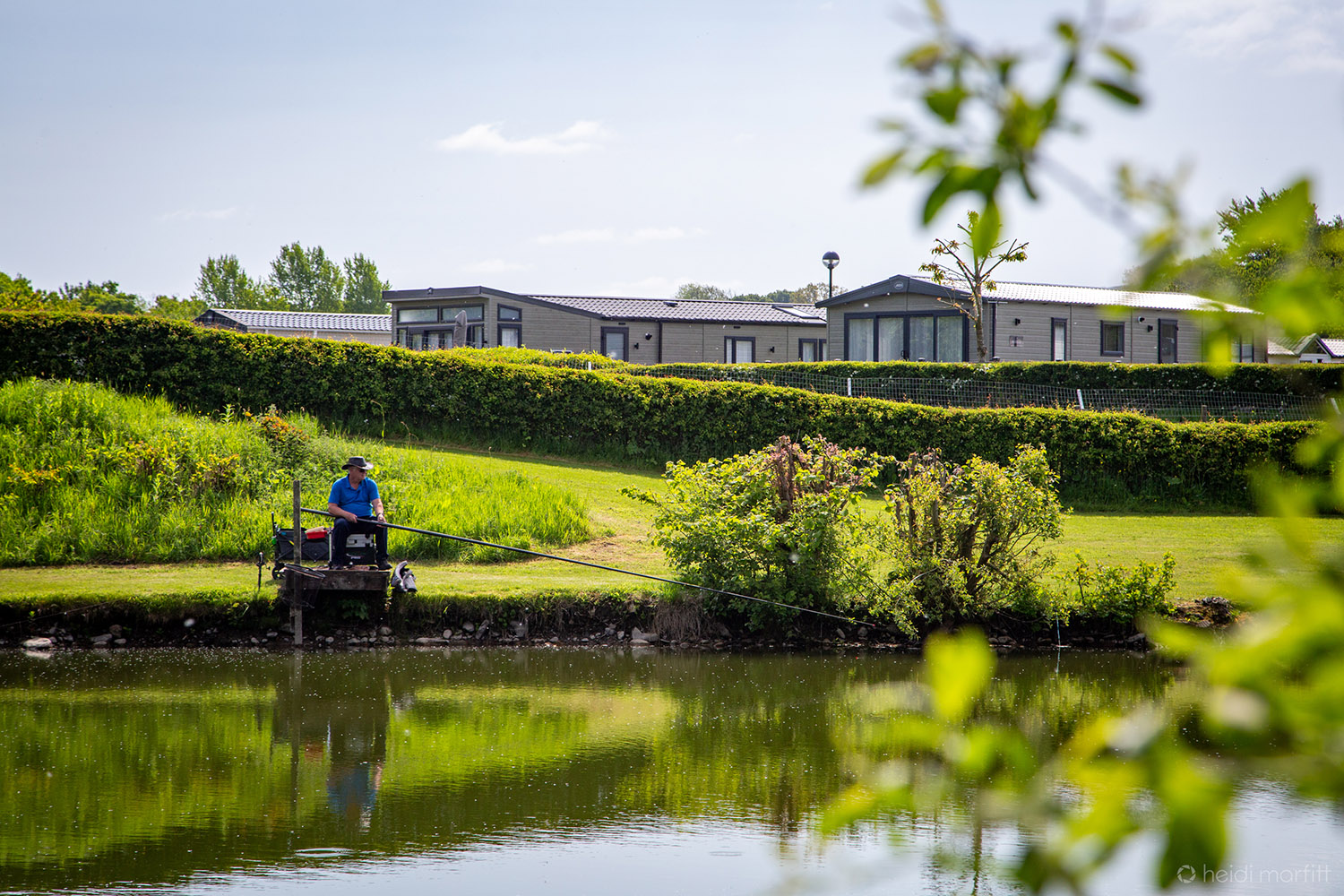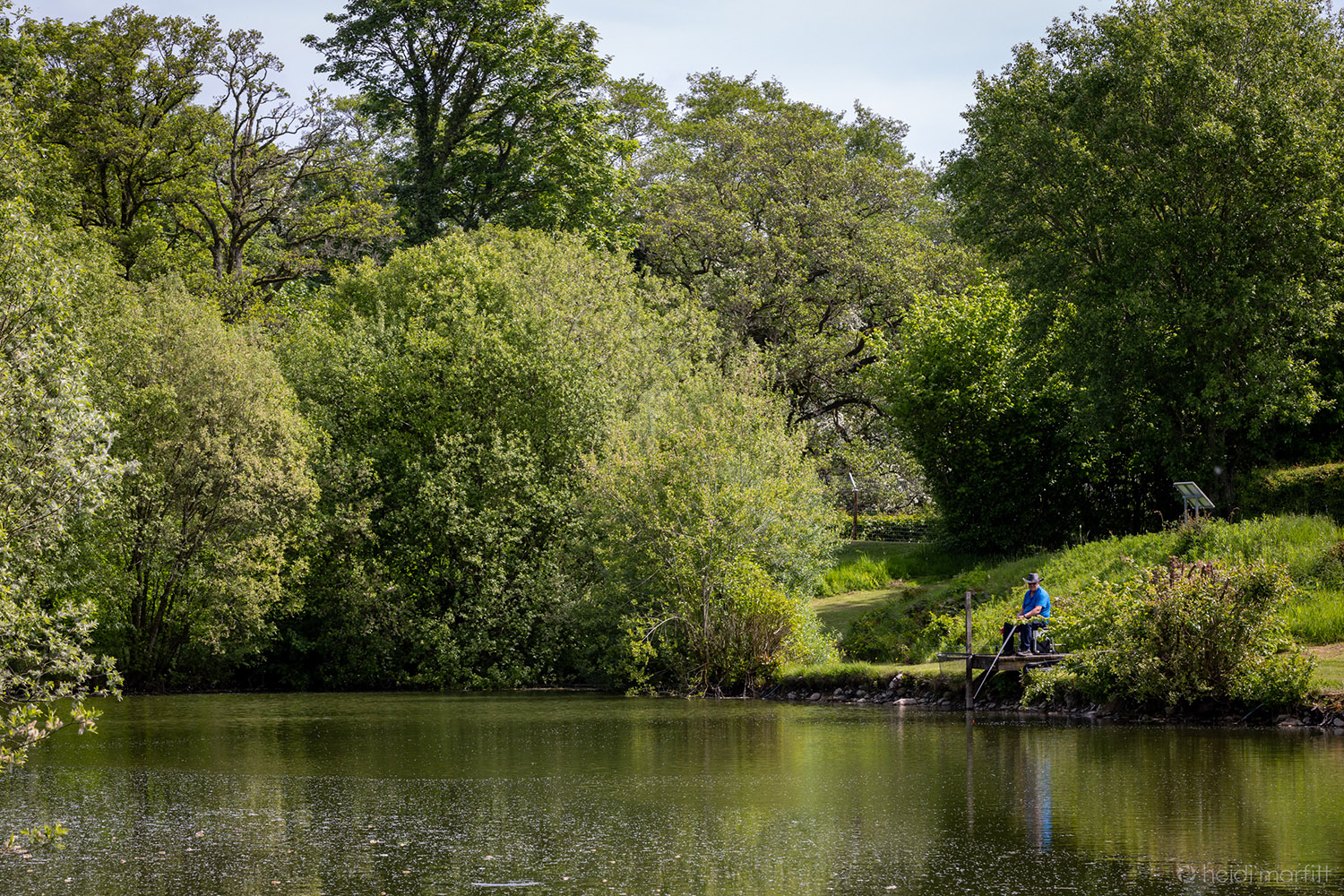 Fishing along the river
Permits for Fishing along the river are obtainable from Reception on the Caravan park for the prices printed below if you are a riverside customer :
| | | |
| --- | --- | --- |
|  2023 | Adults (16+) | Junior (under 16) |
| All Day | £8.50 | £4.25 |
| Weekly | £24 | £12 |
| Season | £66 | £33 |
River fishing is available from 17th March – 30th September. 
River fishing rules:
Catch & Release only until 1st June. Barbed hooks can be used after 1st June.
All fish hooked other than by mouth are to be returned to the river as soon as possible.
Sale of fresh fish from these waters is prohibited.
Fly, worm & spinning only.
Fly only after 9pm.
Spinning allowed when water is at the marked level under bridge (only after 1st July).

Fishing on the Lake
Fishing is also available on the Lake at the far end of the Caravan Park. Opened in August 2008, the Lake is well stocked with a variety of Carp, Rudd, Roach and Perch.
For those of you looking to enjoy some 'me time' whilst you fish then our lake is perfect for you. With 12 equally spaced pegs around the lake and an abundance of natural foliage, this is the perfect place for you to escape to.
Once again, permits are obtainable from Reception on the Caravan park for the following prices if you are a Riverside customer:
| | | |
| --- | --- | --- |
| 2023 | Adult (16+) |  Junior (under 16) |
| All Day | £12.50 | £6.25 |
| Half day | £8.50 | £4.25 |
| Evening (after 4pm) | £5.25 | £2.60 |
| Season | £77.00 | £38.50 |
Lake Fishing is available from the beginning of March to the end of October. Protective nets are pulled over the lake from the start of November.
Lake Fishing rules:
Catch & release only  – all fish must be returned.
No wading. Fishing from the stages only.
Landing nets must be used to land all fish; these must be made of knotless nylon. No keep nets.
Return fish to the water carefully and promptly.
Spinning lures, streamer droppers, double & treble hooks are all prohibited.
All hooks must be barbless.

The River Wenning is annually stocked in the spring with all sizes of Brown Trout and boasts a good run of salmon and sea trout from the end of July to the close of season. E.A rod licences must be presented at Reception.
Please note that whilst dogs are allowed to be walked around the top level of the lake, they are not permitted on the lower level where the fishing pegs are located.
General fishing rules:
All anglers must be in possession of an Environment Agency Rod licence. All children must be accompanied by an adult. Children under the age of 12 don't need an EA rod licence. However if you take a child under 12 fishing and hold or help hold the rod you must buy a licence for yourself.
No shared rods, only one rod, one line per fishing person.
Gentlemanly conduct is expected of all anglers in respect of property, wildlife and fellow anglers.
No maggots to be used on either the lake or river.
All litter is to be taken away.
CCTV is in operation on the lake at all times.
All anglers should complete and return the catch record.
No liability whatsoever can be accepted for any loss, damage or injury to any permit holder.
Any fisher person found in breach of the rules will be asked to leave without refund.